ʻArt meets Science and Spirituality in a changing Economy' is the symposium held September 10 -14, 1990 among internationally distinguished representatives of the arts, science, spirituality and economy. Every day different dialogues took place between four celebrated experts chaired by Brian Redhead, BBC radio/TV host.
PANEL 1 Title: From Competition to Compassion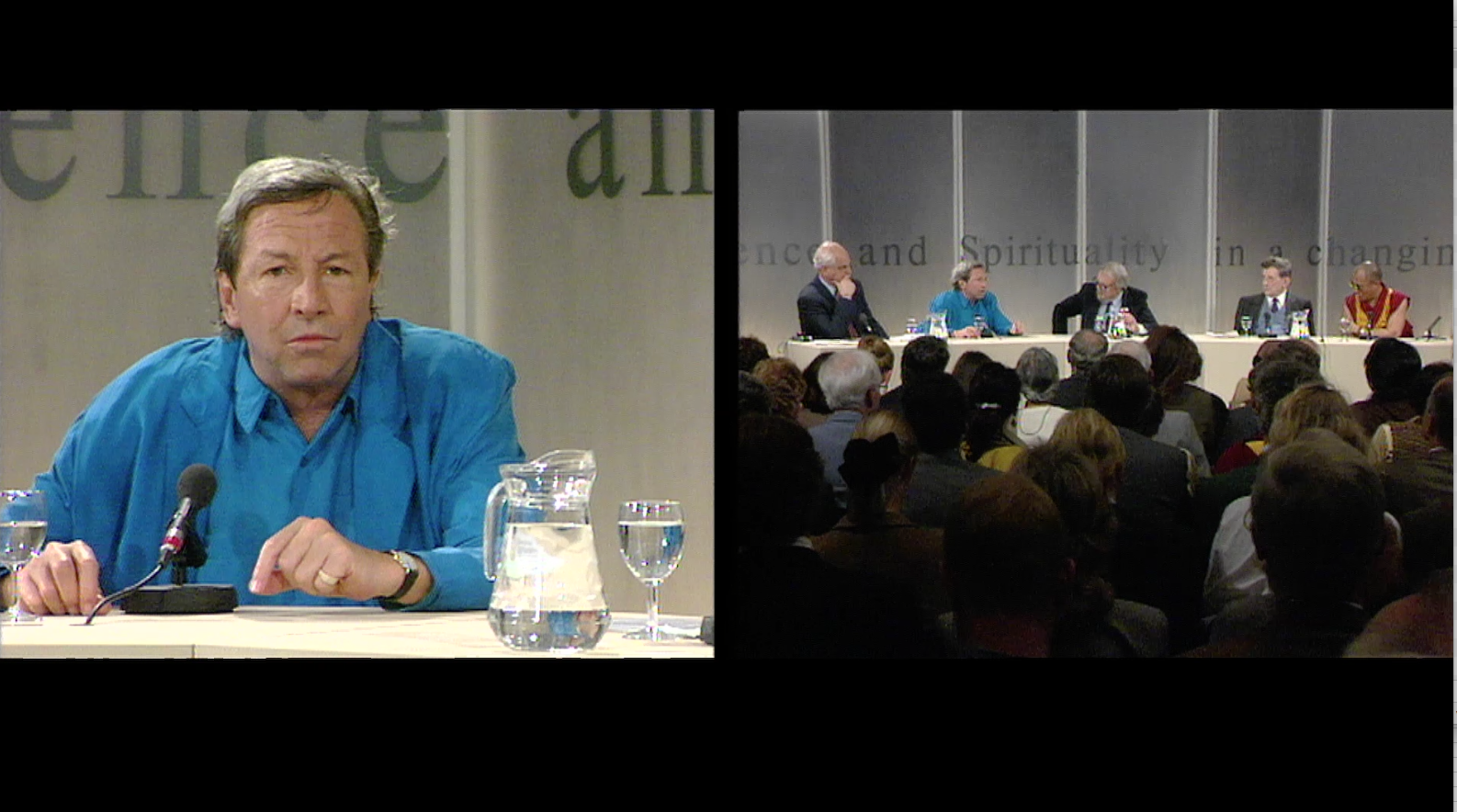 ROBERT RAUSCHENBERG ART Born 1926 Port Arthur Texas, USA, studied at Kansas Art Institute, Academie Julian in Paris, Black Mountain College and Art Students League, New York. Robert Rauschenberg became the forerunner of Pop Art.
DAVID BOHM SCIENCE Born 1917 Wilkes-Barre, USA, studied at the Universitry of California, Berkeley, under J. Robert Oppenheimer and worked closely together with Niels Bohr and Albert Einstein. David Bohm has taken quantum and relativity theories a step further in his ʻImplicate Order' theory.
DALAI LAMA SPIRITUALITY Born 1935, Takster, Tibet, became at age four successor to the 13th Dalai Lama and ascended the throne at age fifteen when China had invaded Tibet. The Dalai Lama fled fromTibet in 1959 and has since lived in exile in Dharamsala, India, devoting time and energy to integrating science and Buddhism.
STANISLAV MENSHIKOV, ECONOMY Born 1927 in Moscow, Russia, studied economics at the Moscow Institute for International Relations. Worked for the UN, contributed to the glasnost theory and wrote at the invitation of the Dalai Lama the book 'Compassionate Economy'.
PANEL 2 Title: The Chaotic Universe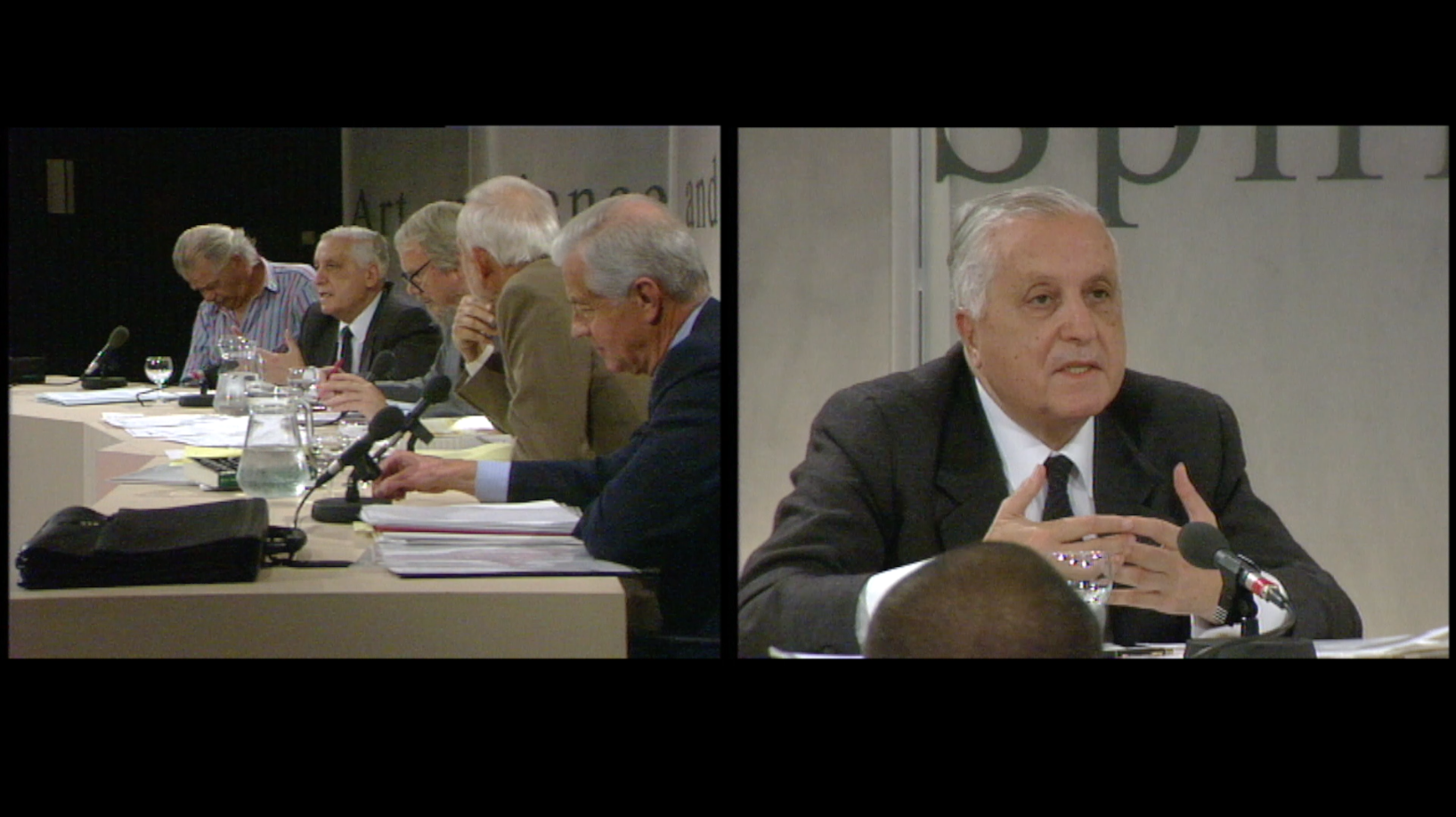 JOHN CAGE ART Born 1912, Los Angeles, studied music privately with Arnold Schönberg and at the universities of Southern California and of California in LA. Cage taught at Black Mountain College and The New School in New York, he elevated silence to music and had a decisive influence on art and music 1950-1990.
ILYA PRIGOGINE SCIENCE Born 1917, Moscow, Russia, was raised in Belgium and studied chemistry at the Free University of Brussels, won the Nobel Prize for chemistry 1977, which earned him the name ʻPoet of Thermodynamics'. After Prigogine discovered that order arises from chaos, he has maintained that the study of chaotic structures is as important as studying order to recognize the value of creativity.
HUSTON SMITH SPIRITUALITY Born 1919 Soochow, China, studied theology at Central Methodist University and the University of Chicago. His book The World's Religions sold over two million copies. Smith asks questions like ʻHow scientific is Science?' and predicts transcendency will very soon return.
F. WILHELM CHRISTIANS, ECONOMY Born 1922 in Paderborn, Germany, studied law and political science in Göttingen and Bonn. Was connected to Deutsche Bank from 1950 on and was Chairman of the Aufsichtsrat from 1976-1997. Dr. Christians revived the trade with the USSR after WW II and published ʻWege nach Russland' about trade during the Cold War 1947-90.
PANEL 3 Title: Crisis of Perception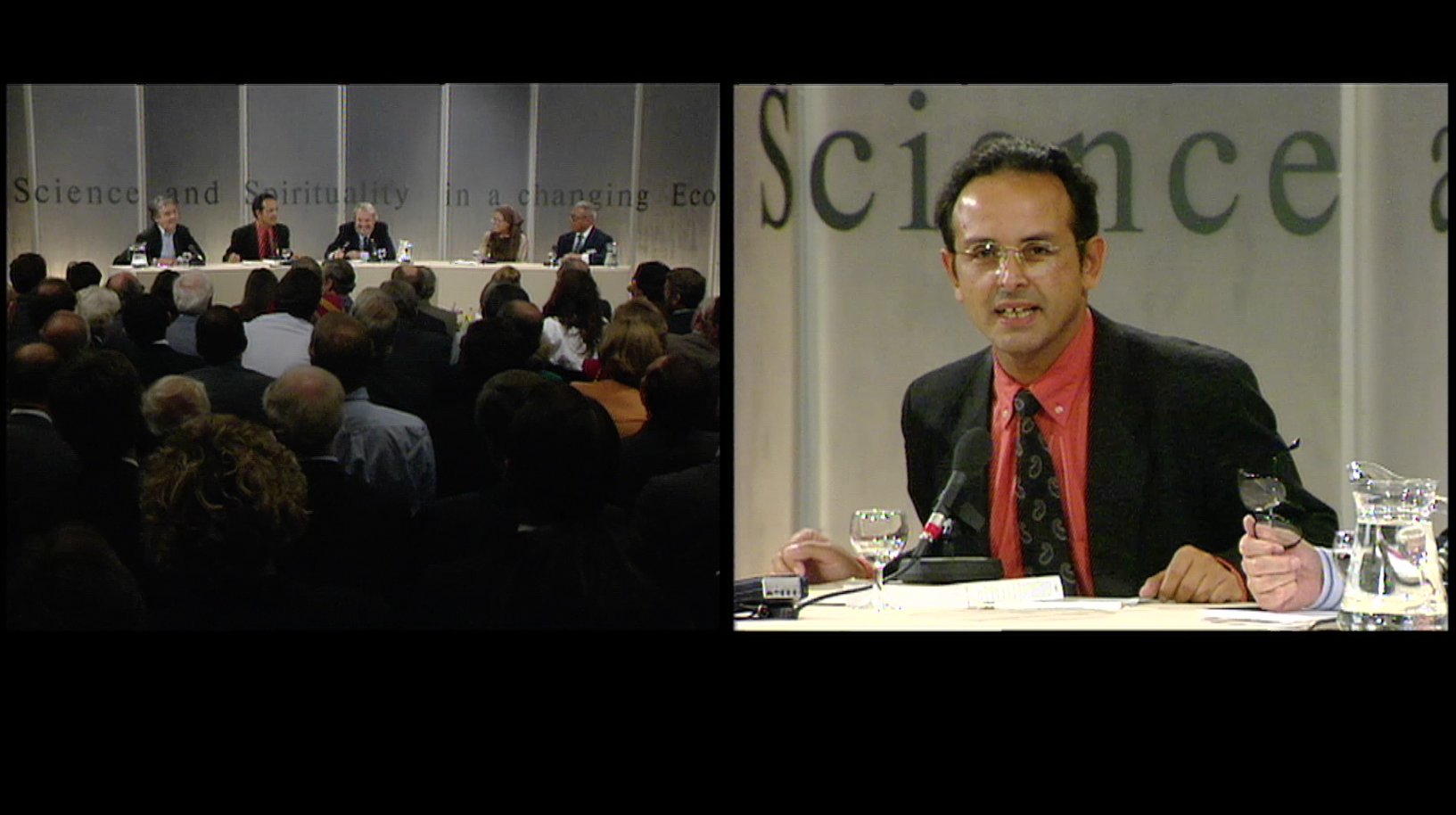 J.C.J. VAN DER HEYDEN ART Born 1928 Den Bosch, NL, studied art in Den Bosch, Amsterdam, Tilburg, Maastricht. Disappointed in art he became social worker, but returned to art. As an artist he investigates light, time and space. The horizon is his fixed point of orientation, by representing it in all positions in his visual works he breaks through three-dimensional reality into multi-dimensionality.
FRANCISCO VARELA SCIENCE Born 1946 in Santiago, Chile, studied medicine at University of Santiago, biology at Harvard University and brain research at universities in New York and Frankfurt. His notion of organisms as a set of closed systems cooperating on the basis of common sense, introduced important changes in our vision of reality. He promoted the dialogue between science and Buddhism as co-founder of the Mind & Life Institute.
MOTHER TESSA BIELECKI SPIRITUALITY Born 1944 Norwich, Connecticut, USA, studied economics, French and Russian at Trinity College, Washington DC. Mother Tessa entered the Carmalite Order in 1967, founded with Father William McNamara a monastic community for men and women and is active in inter-religious East-West dialogues. She supports the view that meditation favorably effects on the future of life in our world society.
J.M. PINHEIRO NETO ECONOMY Born 1917 Sao Paolo, Brazil, studied law at the University of Sao Paolo, started in 1942 the biggest law office in South America, and is famous for how he framed legal sturctures for the debt problems in the Third World.
PANEL 4 Title: The Transforming World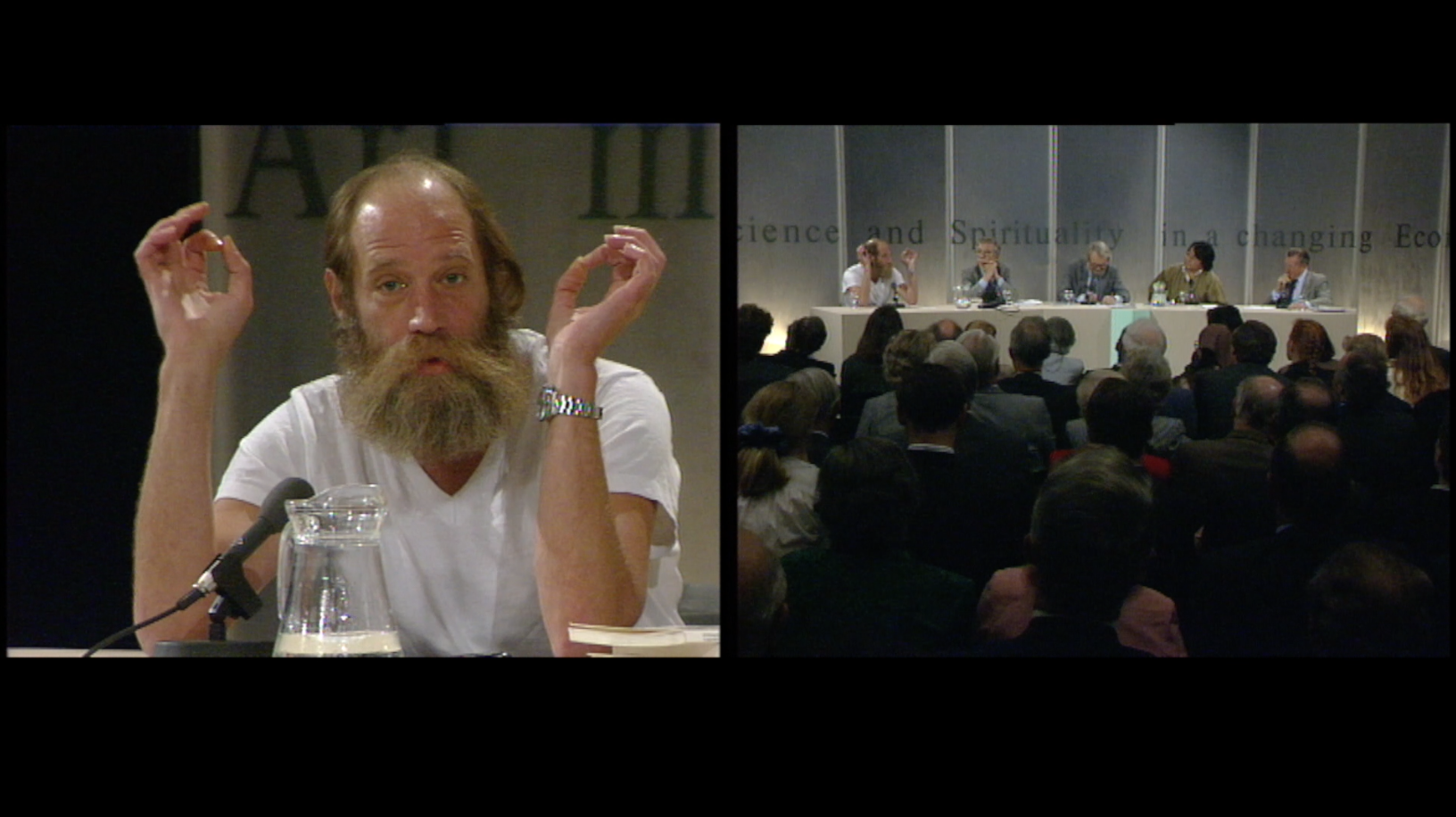 LAWRENCE WEINER ART Born 1942 in New York, USA, opted for an autodidactic development in visual arts. In the famous Cedar Bar in NYC he befriended artists John Chamberlain, Donald Judd, Claes Oldenburg, Barnett Newman, who he considers his mentors. He is seen as one of the pure representatives of Concept Art, 1961, that affirms a mental image is as artistically valid as a material work of art, as also the Fluxus movement maintained from the early 1960s on.
RUPERT SHELDRAKE SCIENCE Born 1942 Newark-on-Trent, UK, studied biology and biochemistry at Cambridge University, as well as philosophy and history of science at Harvard University. His book ʻA new Science of Life' created a sensation in 1981. His morphogenetic field theory that phenomenon exist on the basis of a memory, was seen as important as Darwin's evolution theory.
SOGYAL RINPOCHE SPIRITUALITY Born 1950 in Kham Province in Tibet, was trained by Jamyang Khyentse Chökyi Lodrö, fled from Tibet in 1959 and studied at Cambridge University in the UK. He teaches mental control necessary to prevent undesirable consequences in the future. His best-selling book ʻThe Tibetan Book of Living and Dying' integrates eastern and western theories on death.
JEAN-MAXIME LEVEQUE ECONOMY Born 1923 Paris, France, has studied at Ecole Nationale d'Adminstration, began as inspector at the International Monetary Fund (IMF), was financial advisor to President de Gaulle 1960-1964, director of Crédit Commercial de France, but he protested against its nationalisation policy and became instead director of Crédit Lyonnais from 1986 onward.
PANEL 5 Title: The Shifting Paradigm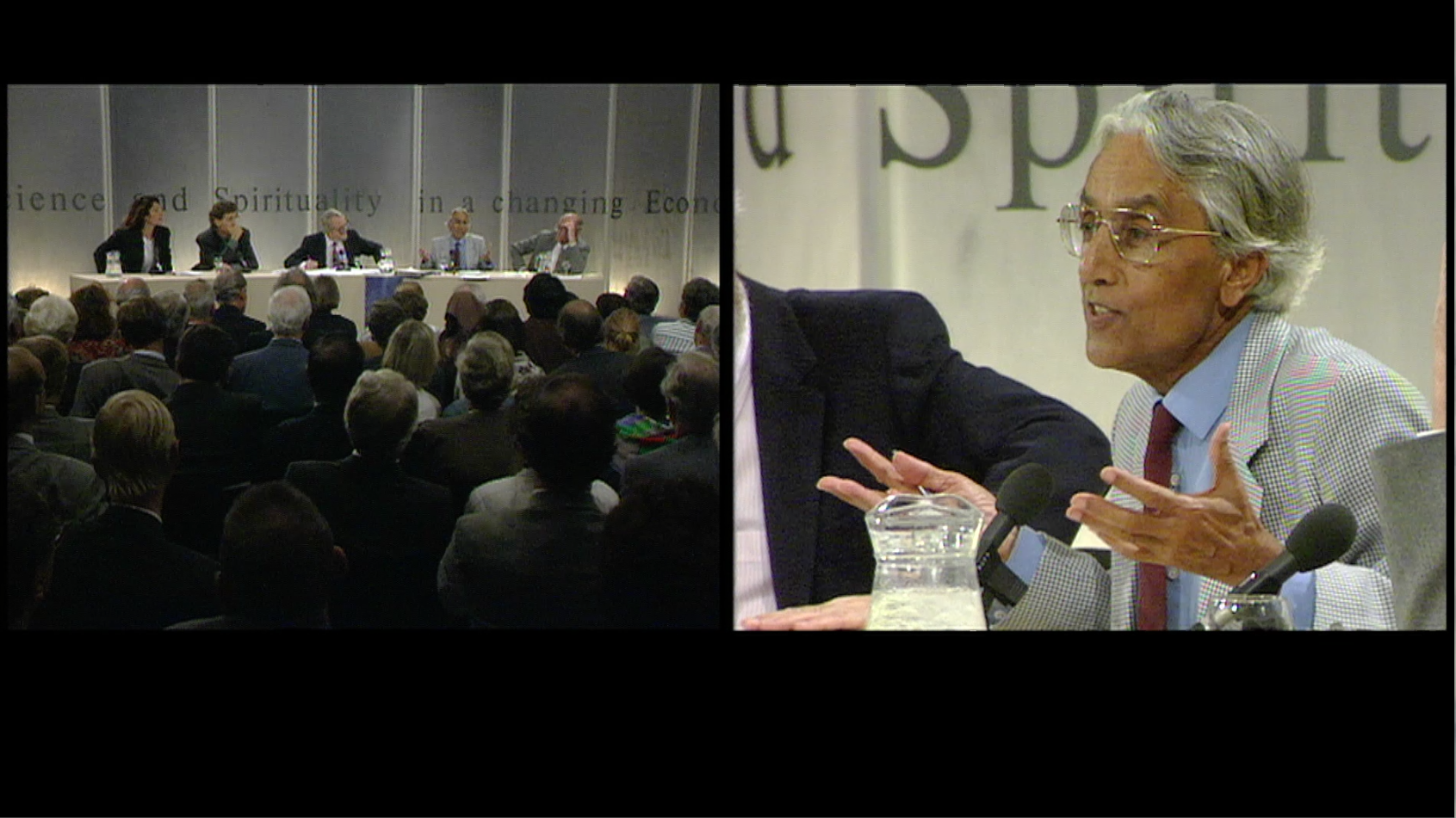 MARINA ABRAMOVIC ART Born 1946 Belgrade, Yugoslavia, studied art at Belgrade and Zagreb, but soon became affiliated with European Performance Art from 1975 on at first together with Ulay. They together transcended a fear of pain barrier during performances, travelled to Australia in 1979 to work with the Aboriginals and walked the Great Wall of China in 1985. After 1988 the performances of Marina became more meditative and energy emitting, attracting many admirers worldwide.
FRITJOF CAPRA SCIENCE Born 1939 Vienna, Austria, studied physics at University of Vienna with Werner Heisenberg and did nuclear physics research in Paris, Berkeley and London. Capra is famous as catalist of new directions in science. His bestsellers are ʻThe TAO of Physics', ʻThe Turning Point' and ʻThe New Way of Thinking' on the changing visions in economics, medicine and psychology as a consequence of Prigogine's Chaos Theory that ended the mechanistic paradigm opened up the chaotic worldview. 
RAIMON PANIKKAR SPIRITUALITY Born 1918 in Barcelona, Spain, studied philosophy, chemistry and theology at the universities of Barcelona, Bonn, Madrid and Rome studied Indian philosophy at Mysore and Benares and has doctorates in each subject. In 1946 Panikkar was consecrated priest in the catholic religion in Rome. Of his thirthy books ʻThe Vedic Experience', 1977, is the most important, all his books deal with fuses of Christianity, Hinduism and Buddhism.
H.J. WITTEVEEN ECONOMY Born 1921 Zeist, NL, studied economics at the University of Rotterdam, was twice Minister of Finance in the Netherlands and was managing director of the IMF for five years. He is a longtime leader of the International Sufi Order and received the Four Freedoms Award in 1982.